Legacy Site Style – Displayed with Custom (Ultimate) Graphics
Click images below to review legacy site style. Recommended for a traditional, beautiful look, more of an online brochure than active website.
Three new color schemes:  Purple, Mauve and Infinite (flat background with any color you wish!)
High Conversion option – For maximizing newsletter sign-ups and Social Media follows.
Legacy Sites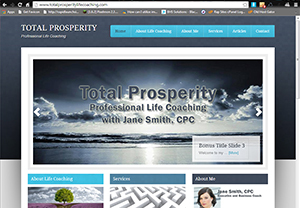 Blue Edition of our Legacy Site. Built in Blogging, home page graphics, adjustable menu and much more.  Site is easy to self-manage and update, links to your social media and much more! Every site includes these Fantastic fea…
You can see our Blue, Green, Red, and Gray color schemes above.
View these links to see our new Purple, Mauve (with magenta) and Infinite color schemes.
Wondering why our Legacy Sites look similar?
It's simple. Our Legacy sites (above) are all managed and personalized using the same simple steps. 
This way, we can easily show you how to update the site on your own. 
Saving you BIG money by doing it yourself. 
But don't forget, you can TOTALLY customize the look of your home page!
 The options are endless!
Click Here to See Actual Client Sites
VIP sites use the same template as Starter Sites…
Only WE do much more customization for you!
Click Here to See Examples of VIP Customizations
Ultimate Sites are completely customized
for your needs! Contact us to discuss.
Every site includes these
Fantastic features:

Edit your own text

Easy blogging/article publishing

100's of preloaded pictures

Change what displays where

Dynamic home page content

Call to action buttons

Email addresses @yourdomain.com

Testimonials feed

Effortless Blogging, powered by WordPress

Customizable home page animated graphic

Links to all your Social Media pages

Displays your Twitter feed Live

Built in SEO

Email address collection and Newsletter mailing

Contact form for potential clients to contact you

Fast loading site  – Google loves fast sites!